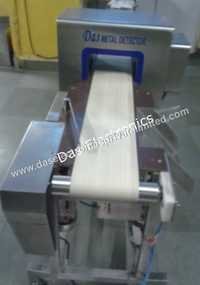 Milk Powder Metal Detector
Price And Quantity
Product Specifications
Silver

For detecting foreign objects.
Product Description
Our milk powder metal detector is accessible by the customers in both compact as well as standard versions, which are utilized in pipelines of gravity feed to check for non-required metal impurities in constant circulation of powders and granules like flour, spices, sugar and corn meat.

Product sensitive components are manufactured in compliance with FDA food class quality norms. As large quantity material circulation by our milk powder metal detector, eliminates folds fast separate even the tiniest piece of metal non-required materials from the circulation of products. Handling free outline and fantastic development guarantee dependable working in the most difficult industrial conditions.


Advantages and Properties:

1) Small outline: Our Detector brags the industry's most limited installation stature.
2) A setting frame with included metal free area permits for outstandingly simple and fast installation
3) A stone strong sensor mounting frame and head configuration guarantee steady unwavering quality and execution.
4) Various reject alternatives: Our milk powder metal detector comes with tidy fixing is suggested for powders. It is most appropriate for usages with quick circulating products. Further, the dismiss system is made to tolerate the difficulties of corrosive products as well as to not wear out.

Salient features of Metal detector for Milk Powder, Butter, Cheese, Paneer.

1) Product effect compensation
2) Audio and visual indication on metal detection
3) Very high sensitivity
4) IP 65 control panels
5) Stainless steel 304
6) Model–AMD (All Metal Detection)-Detects Ferrous, Non-Ferrous and stainless steel
7) Model-FMD (Ferrous Metal Detection)-Detects Ferrous metal in metallised (aluminum) film packaging
8) Model-FAMD-combination of above two (AMD+FMD) model
9) Pneumatic flap, Air jet types of reject mechanism as per applications